The Intimidator Group is headquartered in Batesville, AR and represents six brands; Spartan Mowers, Intimidator UTVs, Bad Dawg Accessories, GroundHog Max and the eNVy – Neighborhood Vehicle. At Intimidator, Inc. we know that life is precious, that's why we strive to help people make the most of it. You will find that our products are built for time well spent with those you love, and, they are built right here in our hometown of Batesville, Arkansas.
As a faith-based company, we also believe we are here to serve a purpose that is much bigger than us, which in turn, impacts everything we do. There is great significance placed on improving our community and displaying ethics in our businesses decisions. As we produce each machine, our commitment will continue to be, passionately pursuing excellence – from concept, to the factory floor, to the customers hands.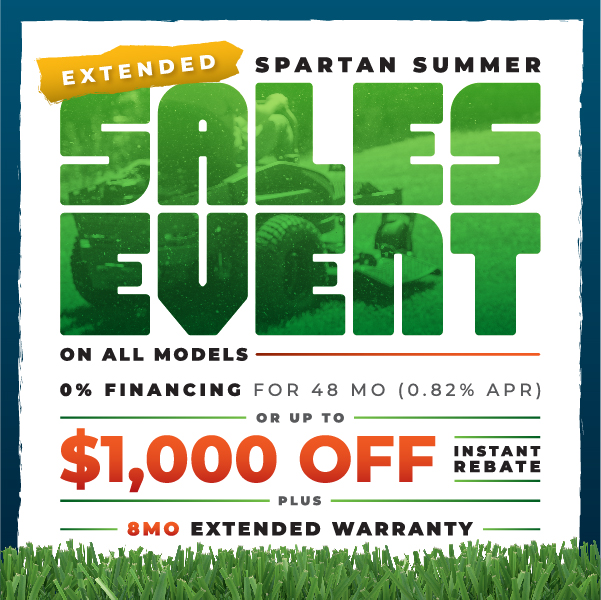 The KG-XD King of the Grass stand on zero turn mower combines all the best features of a commercial zero turn mower with a stand-on unit to work better, faster, smoother, and with more comfort from its sit-behind seat. Just lean back against the seat with your feet on the soft-ride platform and place your knees against the Dymetrol® angled bolster. We believe it is even more comfortable than a sit-down Z!
 
100-300 lb Operator Platform

Multi-Function Key Pad with Soft Start

Throttle Next to Parking Brake

Magnetic Pin Height Adjustment

Front & Rear Tie Down Locations

Lean-in Bolster at Optimum Angle

⅝" Thick on Leading Edge of 7 Gauge Deck

Solid Anti-Scalp Wheels on Deck

4 Ag Bearings on Mower Spindle

Rubber Anti-Scrape Mower Chute

Parker HTJ 12cc Transmissions

The KG-XD is available with a 54" and 61" deck size and with the Kawasaki FX801V 25.5 hp engine or the Vanguard® Big Block EFI 37 hp engine. Test drive one today!
New for 2022, the King of the Grass Ride-On KGZ-XD Blackout. Here are just a few advantages that take this zero turn mower into a class of its own: 
 
2800 RPM engine speed for instant maximum torque.

Rugged fusion welded reinforced tube frame

16cc Parker HTG integrated hydros with no power-robbing reduction gears

4 Tweels for smooth, flat-free performance and increased traction

4 shocked front spring suspension with multi-adjustment

dual fuel tanks with 17 gallons of fuel capacity

55+ pounds of torque, EFI, electronic governors, and electronic variable spark advance

oversized electric clutch to handle torque load

special Blackout super seat, adjustable with TecsPak® adjustable suspension under the seat

Vanguard® engine with Oil Guard System

New magnetic mower height adjustment pin

Test drive the 61" KGZ-XD Blackout at Truck Pro and see for yourself!
The RT-HD's conventional design possesses four of the five layers as standard equipment: Radial Tires, TecsPak® adjustments from 100-300 pounds, 360-degree Seat Platform, and Dial Adjustable Seat. Three mower widths, 54", 61" and 72", and three strong engine options make this Spartan's best value zero turn commercial mower.
 
We've fine tuned our engine options for the RT-HD, offering the Vanguard® 810cc 26 hp, the Kawasaki FX801V 25.5 hp, and the Vanguard® Big Block 36 hp. Take your pick...you won't be disappointed in any of the three. 
A full-sized mower at a mid-sized price. It's no wonder RT-Pro has become one of Spartan's biggest selling zero turn mowers. Parker all-hydraulic transmissions, Briggs and Kawasaki engines, huge 24" radial traction tires, and Folding ROPS. The RT-Pro is packed with more advantages than any other competitor!
 
24" Rear Radial Drive Tires

18,500 FPM Blade Tip Speed

 
More bang for your buck...that's what you'll find with the RT-Pro. Choose from a 54" or 61" deck size and the Briggs 27HP, Kawasaki 24HP & 35HP, and Kohler 25HP engines.
We love the RZ-C, and so do our customers. With the same fusion-welded tube frame as our bigger zero turns, this compact version has the same durability with a lower starting price. Its 4" deep deck allows it to maneuver easily in tight places.
 

Available in a 42" or 54" deck size and with the Briggs 25 hp or Kawasaki FR651 21.5 hp engines, the RZ-C is a compact solution that delivers the same great results. Give the RZ-C a test drive and see how we packed a BIG punch with a smaller sized zero turn mower. 
The RZ-HD is patterned after the big guys with 5" deep 7 gauge XTF decks, ROPS, 22" rear radials, Parker hydraulic transmissions, and the Spartan signature styling. Everyone loves the looks and can't deny the performance.
22" Rear Radial Drive Tires

5" Deep Deck

9 mph Top Speed

7 Gauge Decks

Folding ROPS

9.5 gal Fuel Tank

18,500 FPM Blade Tip Speed

Parker HTE 10cc Transmissions

Three deck sizes (48", 54" and 61") and four engine options (Briggs 25 hp, Briggs 27 hp, Kawasaki FR691 23 hp, Kawasaki FR730 24 hp). The RZ-HD is an excellent choice for large or small yards. Test drive one today at Truck Pro!
Meet the SRT-XD, a favorite in our Spartan commercial zero turn  mower lineup. The biggest Vanguard® engines, along with the two 66 lb Parker HTG-16cc extreme duty transmissions and the five layers of Smart Ride Technology comfort put the SRT-XD at the top of the food chain for commercial quality mowers. 

The Vanguard® and Kawasaki 35 hp and 38.5 hp EFI engine options have become commercial user favorites. Biggest. Baddest. Best....that's the SRT-XD and we are proud to call it ours. Try one out at Truck Pro today!
The Spartan SRT-XDe has all the deluxe bells and whistles of our XD Big Block with less expensive engines and drives. SRT-XDe models are the industry's best value in high end zero turn mowers.
Front & Rear Radial Tires

4 Bearing Spindles

18,500 FPM Blade Tip Speed

Parker HTJ 12cc Transmissions

The XDe is equipped with the Kawasaki FT730V 24 hp engine in a 54" and 61" deck size. The Parker HJT 12cc transmissions and 24" Radial tires make this mower hard to beat.
Large inventory available on site. Stop by and check out the full inventory of Spartan Mowers at Truck Pro today!